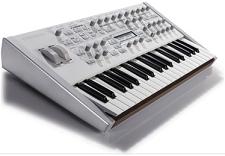 Access Music are about to release their very interesting new hardware/software combo, the Virus TI Totally Integrated Synthesizer. The Virus TI hardware is a synth, keyboard, control surface and audio interface all in one. Nothing revolutionary there. The interesting part happens when you install the VirusControl VST/Apple Audio Unit plug-in. This acts just like a regular plug-in, except behind the scenes it uses the hardware to generate sounds. This allows some neat features. For example, the connection is delay-compensated automatically, which normally can't be done with a hardware synth.
The website describes the concept and the products in exhaustive detail. Here's an informative extract: From inside a host application, the plug-in enables the new VIRUS hardware to appear as a multi-channel VST/AU soft-synth with up to 4 sub-mixes (or 2 stereo). Access' proprietary driver technology makes VIRUS TI the world's first hardware synthesizer with sample-accuracy timing and a delay-compensated audio/MIDI connection.
Seamless interconnectivity also provides a real benefit in the software sequencer environment. All multi-timbral sounds and settings used for a project are stored within it with the plug-in, for snapshot total recall plus editor and librarian functions with no SysEx or 3rd party software hassles.
The new VIRUS hardware is also well-equipped to capitalize on the power of Total Integration. With 24-bit 192KHz balanced analog, S/PDIF I/O and MIDI in and out ports, the new VIRUS is well-suited for use as the main audio and MIDI I/O center for your entire rig. These functions are especially practical for the laptop studio, offering an unmatched range of features and capabilities from one product.
Additionally, a new Remote Mode allows the VIRUS hardware to become a control surface for any MIDI-capable device or software, mapping each of the 33 knobs to a specific MIDI message. TI ships with a great selection of templates and includes 32-user memories for custom controller maps. It's a powerful addition that greatly increases the value of the synth's studio footprint.